Edgy Triangle
Whitelister
Custom Items Team
Subscriber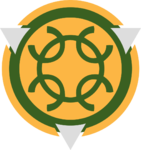 Mission Statement
To promote learning, research, and the creation of magical wonders.
To protect the sanctity of magic and prevent its abuse.

Founded by Khyana Brodielonde and Finn Patzer Dawn-Lyren and based in Tyr'Arien, this Guild seeks to incorporate Magi of varying disciplines with the intention of combining shared experience, resources, and magical talents for the creation of wonders.
We want to get together mages with different disciplines so that we can combine our disciplines in enchantments.
This guild is open to any and all Magi, regardless of kingdom of origin or allegiance.
Disciplines of Members:
Aeromancy
Hydromancy
Pyromancy
Terramancy
Biomancy
Chronomancy
Healing
Souls
Mana
Sound
Psionics
Planes
Golemancy
Erebokinesis
Alteration

All applicants are encouraged to send a missive to Finn Patzer Dawn-Lyren in Tyr'Arien to be considered for entry to the guild.
((Apply in the thread below.))
Application Form:
Username:
Character Name:
Known Disciplines:
​
Last edited: