The Best Dude
Team Leader
Custom Items Team

Reply to this post with your Forum Name, The name of the character being brought through exodus (this doesn't mean you are locked to that one forever, it's just for the arc), and if you have your nine items selected and if those nine items are placed in the very top row of your inventory:
Along this imaginary red line.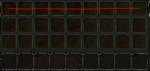 Any other items should be placed into your physical Dwarven Storage Vault when the time is appropriate, and
will be generally retrievable* for the new world if it can satisfy the set of conditions detailed below:
-Can this item be feasibly carried by a single person (the character)?
-Would this item still be feasibly under the character's possession?
-Do you know which world the item was made in? (For tagging purposes)
-If the item is an animal, is the animal below Legendary rarity and not gigantic?
-Material items of most if not all kinds, cannot be brought over. A reimbursement system is in the making.
Any crate items can still be brought, as they are and will still be denoted with a
-
Crate
/
Crate
addition to their tag.
Items being brought over will receive a new
-
A(World Number)
addition to their tag in the same spot as Crate items'
tag addition. Material items cannot be brought over, and any attempts to sneak items of this type over will be caught
and reckoned with. There will be an informational post later on prior to Exodus detailing material reimbursement.

This Spreadsheet is to keep track.

YOU CAN PM CRACH AT A LATER DATE BEFORE THE DEADLINE TO UPDATE YOUR SELECTION IF NEED BE AND CRACH IS ABLE
​
Last edited: