The Forums Jester
Team Leader
Whitelister
Event Team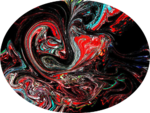 "Drip..Drip..Drip"
The flavors would flow in down the veins of consciousness that pumped far beyond the walls of its hall. The smell was intoxicating and its taste beyond description. The hunger that ever required satiation would feel great pleasure and relief as their thoughts became flooded with the details that were introduced to it. Whole aspects of the realm beyond came into perception as if freshly laid on the canvas that was its thoughts.
"Drip..Drip..Drip"
The oiley texture that was absorbed from Ruhigdorf Formal Legalities, the sweet and sour aromas that escaped as it discovered the existence of The Enduring Church, the frosted sensation that stunned its hide at the hearing of the Ballads of the North. Each came with an addition that overlapped the secondary and tertiary subjects that combined to fully map the pallete of inquieries that expanded with each and every passing thought to be leeched off the host it infected. The longer it lasted, the more it became chaotic to its senses.
"Drip..Drip..Drip"
The parasite rambled out other potential hosts, whispering their names into its thoughts as it feasted. Each name taking further and further of its fascination
. Olivia
, Hilda,
Jeoff Craster,
Apollyon
,
Snowheart,
Thaddeus
,
Alice,
and more, always more being brought up. The feasting would flood its maw as it drooled across the cold floor. Groaning in a slurred gastric lull with brief breaths of reality. It was falling back into slumber quicker and quicker, and its mind was flooded with disarray. More than it could ever hope to keep track at this rate.
"Drip..Drip..Drip"
There was always that little prod it sensed, the one that appeared and disappeared in its voices. They could not recognize it, but they could sense when it was present. Whenever this entity was sensed, their mind would halt.. tempting to give into its jabs to understand what exactly it was. Once or twice it occured, before shortly falling back. Then twice became four times, and four to eight, and onwards and onwards till it spent the septs in silence with nothing but the being. Who spoke of ways to improve the meals. It spoke of a way by which the great knowledge could be sorted, how to put all of the horrors of its mind to better be found in the hall, rather than scattered all about nonsensically. It spoke of an arrangement that would improve its meals tenfold.
"Drip..Drip..Drip"
Soon, they would return back to slumber, and dream of its construction.
​
Last edited: