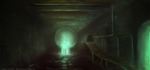 Drip...
Drip...
Drip...
"They killed them, both of them! Oh my sweet sisters..."

There was a clicking of the halls, a talon tapping on the walls. The sewer was filled with sorrow, one so tangible one could slice through it with a blade. The mourning was followed by an ever insistent drip of tears falling from wrinkled cheeks to tap on the stone floor underfoot, quieted by the wafting of slow putrid waters.

"Jaldada.. Evanora... my sweet sisters. You both still had so much to do.. so much to learn. Those wretches will pay.. pay with their lives. An eye for an eye.. blood for blood.
It was a fair evening with a beautiful twinkling sky above. The moon shown high, watching down upon the men and women of the quieting evening city of Highmeadow. People's final footsteps faded into homes, doors clicked, and only the tavern kept a soft bustle with laughter and slammed wood tankards on tabletops. Down an alley and young couple giggled to each other as they drunkenly strolled along cobblestone, giddy with a stupor of joy in the late eve. They smiled, hand in hand, shoulder against shoulder as they looked about for their home through blurred vision and wobbling steps. Though despite this wondrous evening.. something sinister filled that alley that night, creeping, crawling along the cobblestone. It crept through the cracks like blood, slinking with a coil to its every movement.

The couple were entirely unaware as this thing came forth... unaware until its talons dug deep and their momentary screams were silenced. Bodies were dragged, scraping and rubbing against the cobblestone to leave a wretched path that would soon dry into a dull brown by daybreak. The trail would grow cold in the center of a further down alley... and no bodies left behind... only a strong scent of blood beginning to gradually fill the streets, seeming to originate from the gutters and holes that led to the muck and defecation filled sewers.

And over the next few days.. the next mense even, people disappeared. They disappeared in groups of one, sometimes two... and even more rarely as much as four. Though every trail of blood always ended in a place with no where to go... and no body at the end. And with these disappearances... the smell of rot and drying blood... permeated the air of Highmeadow in a grotesque fashion.

A warning perhaps...? Or is this simply the beginning of something far more.. sinister.
@ZooGarrus
@LordOfTheDank
​