Really British
Progression Team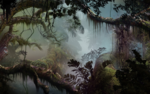 ​
Taking a more western passage to deliver their message for safety reasons, the swiftest courier at the Luk'Mali's disposal was sent from the Ondera's stronghold on the isle of Noioinamali to the desert oasis city of Mulajara. The Leonin courier was given the mark of the Ondera, signifying his official business to deliver his message to whomever was in-charge: @Vadokim @anyone_else_who's_incharge
​
To the leadership it may concern,

The news of the conflict in the desert brings me concern. At a time such as this, when the spirit of chaos seeks to tip the natural balance of the world, mortal races should not have to deal with such pity conflict involving pirates and bandits. All are efforts should be focused on the bigger picture and distractions like this must be dealt with swiftly.

Should you wish the Luk'Mali Kingdom we will provide the aid of are warriors and navy to with this threat you face. May Thuun watch your warriors in the battles to come.
Ingonyama Hadenibhek,
Ondera Deni Luk'Mali
​