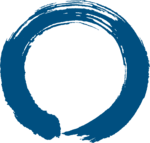 THE D I V I N E R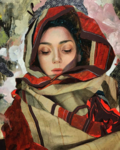 AND I WILL SHOW YOU SOMETHING DIFFERENT FROM

EITHER


YOUR S H A D O W AT MORNING STRIDING BEHIND YOU
OR YOUR

S H A D O W

AT EVENING RISING TO MEET YOU;

I WILL SHOW YOU F E A R IN A HANDFUL OF DUST.

​
The men dressed in the hide of the mountain came at night.
Their mounts, enslaved and enthralled, carried them faster then a mother could turn around.
They were upon us.
Nergüi was born of a seer and a falconer. In many ways, she was the sighted one-perceptive both in matters earthly and mystical. She was raised away from the other girls, sheltered by walls of dried cow hide and marinated in heavy herbal smoke. She was patient in her studies, for she know no other choice. This would later prove to be her most valuable lessons: that fate, even if unread is fate. Observing the insides of an dove, bones of cow and man, the swirls of smoke and curls of milk, she learned the signs the fate gives us, and the signs men wish to see. A seer is forbidden to tell her own fate-and as such she never saw it coming. The riders riding under the banner of coin and plunder had beset her village. They tore family from home, and flesh from cattle. Their mouths devoured her past, casting iron into the thyme scent. She was taken as plunder, as possession and prize.
D E S I R E
MAKES EVERYTHING BLOSSOM
POSSESSION MAKES EVERYTHING
W I T H E R A N D F A D E
It wasn't long until she was deemed without worth. Her back was frail, her fingers were like the river. She was given for coin that matters little, to men that care little. Like an exotic beast, her lifetime trade was set on exhibit, traded to an troupe that peddles cheap entertainment. However, the folk of the world outside cared little for the entrails of the falcon, or the anklebones of her ancestors. They craved icons-pictures of a life they knew. She had little time to learn the art of tarot under a whittling candle and atop a creaky bench, but she knew it since birth. The patterns of fate were the same, be they cast in pictures upon parchment or in the coils of heavy smoke. Her act became her life-a cruel thesis once more forced on her. What was meant to be a cheap thrill, became an serious omen for men who came in pursuit of laughs. She earned her upkeep, for she cared for the bread she received, but others were not so hardworking. The troupe fell apart, and for the first time she found herself without tutelage, voluntary or otherwise.
Her hands clasped about the neatly folded deck of cards, for the first time without customer or patron. She pulled the cards slowly, closing her eyes and bringing it to her face.​
She stood in the wind, without guidance, and it was there that she broke the sacred rule.
It was then that he saw her path:​
​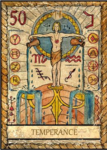 ​











She​