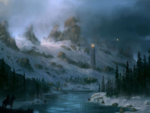 With the letter sealed and the order given, a messenger would ride through the days until he reaches both the North and the Reiks.
A letter would soon find its way to the desk of Reina Piscaes and the Reikskanzler Alum respectively. It is stamped
with the royal seal of Folset. The letter's intended recipients and sender are written clearly on the front.
The letter reads 'From Folstian Justiciar Auberon, to be delivered to Reina Piscaes.'

Huskarl Piscaes,

Greetings, and I do hope this letter finds you within good health. I write to
you now based on statements that the Reikskanzler has provided regarding
utilizing Tiberius Rhett's abilities to purge curses from several individuals. Given
the nature of Tiberius' incarceration and agreements between the Reiklands and
Folset regarding his asylum I am required to be present for each instance of
Tiberius' operations.

If I understand correctly, you will be the one to organize and begin proceeding
toward the meetings across the aforementioned individuals. I ask you to notify
me ahead of time so we may schedule our respective rendezvous accordingly.
A copy of this letter will be sent to Reikskanzler Alum so they are aware of the
planning as well. I look forward to hearing from you.
Warm regards,

@Abbi
@Anauriel
​
Last edited: