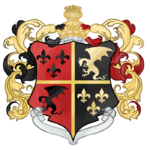 A notice would have been spread throughout Florentia and elsewhere as well.
To all whom this announcement reaches,
As Florentia welcomes a new era with the rule of Her Majesty, Lucrece Duval, Aquitagne wishes to usher in an era of change as well. Her Highness, Princesse Rosalie Duval, Comtesse de Aquitagne, wishes to strengthen foreign ties and broaden trade systems. Her Highness seeks to bring vivacity to Aquitagne, by making it bustling with life and activity.
In order to do so, Her Highness will facilitate the creation of businesses personally, to provide support for innovative minds.
Furthermore, Her Highness welcomes one and all to apply for work in the castle, or in Aquitagne's guard.
Festivals and celebrations of a new Florentian era await.
​