R O S A L I E
~
C L A I R M O N T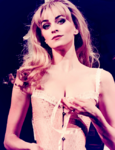 "Don't you just LOVE me in pink?"
(
x
)
​
~ General Information ~
Full Name:
Rosalie Giselle Clairmont
​
Title(s):
Nickname/Aliases:
"The Beautiful," or "The Vain"




Rosie, Rosa, any variation of "Rosalie"



~ Important Information ~
Age:
20; however, she appears much younger; in her teens.
​
Gender:
Rosalie is clearly female.
​
Race:
Sexuality:
Very, very straight.​
Height:
Five feet and six inches.
​
Languages Spoken:
Strictly common; she wants to learn elven, though.
​
Voice:
Sing-songy and light. It is pleasant to listen to, as well. Reference: Lisa O'Hare in "A Gentleman's Guide to Love and Murder" -
(
x
)
​
Physical Disabilities:
If being extremely airheaded and vain counts as a disability...
​
Traits and Blessings:Â
Jewelry and/or Accessories:
Depending on what she is wearing...
A small, black velvet hat; adorned with a rather extravagant red-feather plume.

A rather simple, but beautiful, gold chain bracelet. The clasp is a small heart.

A fanciful, pink bow in her lavish, golden hair.

A thick, black choker-necklace finished off with a red jewel at the center.



Pets and/or Companions:
"I don't know what you'd do without
me
!"
​
~ Physical Attributes ~
Build:
Rosalie could be considered ectomorphic. She still has supple womanly curves, that are accentuated by the clothing she wears - quite skintight.
​
Hair:
Rosalie's hair is lovely and blonde. It's one of Rosalie's most prideful attributes about herself. She pampers her hair indefinitely.
​
Eyes:
She has almond-shaped doe eyes, cocoa-brown of color.
​
Skin:
Rosalie's skin is flawless - it glows a perfect peaces-and-cream color.
Distinguishing Features:
Face

- Rosalie has unmatchable beauty. She is constantly primping and pampering herself. It is hard to deny she is beautiful, let alone ignore it.

Attire

- Rosalie is most always dressed in some shade of pink. It is eye-catching, to say the least.

Fragrance

- Rosalie's aroma of choice is decadent. A sweet, powdery rose scent is ever-present on her person. It is attractive and simple.
Appearance:
To sum everything up, Rosalie looks like a very beautiful woman in her early twenties, or late teens. ​
Hygiene:
Rosalie is incredibly clean.
​
~ Traits ~
Green
-
denotes positive
|
Yellow
-
denotes neutral
|
Red
-
denotes negative
"You're not good, you're not bad, you're just nice"
- Rosalie is very kind to most everyone she meets, unless they heinously disrespect her in some way, shape, or form.





"Down with the Patriarchy!"

- Rosalie defies the standards that women are placed in. She does so by dressing rather scandalously (showing cleavage, or *gasp* shoulders), and acting quite tersely towards men who judge her.





"Fashion Queen"

- Rosalie has a great sense of style. She is a tailor, so she designs her own clothes and wears them; she'll even show them off. However, this leads her to believe that nobody has a better sense of style than her, which can lead to her judging most people for their clothing.



"You are vain, and you're heartless..."

- Rosalie is incredibly airheaded and vain; she only cares about if she looks pretty or not. Pretty self-explanatory.
~ Past ~
Hometown:
The outskirts of a far-away city in a now far-away land.
​
Type of Childhood:
Fanciful - lots of gifts, pretty dresses, and vanity.
​
Childhood Pets:
First Memory:
Playing in a doll house with a doll who had brown hair and a purple dress. She named the doll "Donna."
​
Most Important Memory:
The death of her mother.
​
Childhood Hero:
Childhood Crush:
Dream Job:
To be pretty, full time.
​
Education:
Rosalie received a decent education. However, it is as if she has lost it all in the time she has grown in a woman.
​
Finances:
She grew up in an aristocratic family.
​
~ Present ~
Current Location:
Currently Living With:
Pets:
Religion:
Occupation:
Once upon a time, Rosalie owned and ran a high-end boutique.
​
Finances:
Rosalie has since lost much of her aristocratic wealth, but retains some of it due to the boutique.
​
Alignment:
"This is the face of a woman that a man could easily worship, for all of his days."
​
~ Relations ~
All previous relations have been redacted!
Name
[Tag]
Feelings:
In Depth:
Fitting Theme:
~ Art ~
​
Art by @Roze
~ <3 ~
​
Last edited: