The Forums Jester
Team Leader
Whitelister
Event Team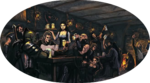 The stout framed figure would make their way through the realm. One day they would be spotted seeking shelter in the drinking halls of Vinnagard, the next they were seated by the hearth of the Reiklands warm fires. They listened intently to the bards that purveyed Lusotania, and followed the sonnets sung by troubadours within Folset. They greeted sailors entering into Valois docks and took a seat around the smoking pipes of Mutajara.

Wherever there presence was found, their offered trade was all the same. They would bring their request to whomever would offer the time of day to listen, and spoke nary a word further if a soul declined the offer. Though no matter which, the paternal sagely voice would say the words without failure.
"I am in need of a good few stories before I move on from these lands. Do a soul a kindness and share onto me what you were raised on. Share with me tales of great beasts of legend, of heros from yesteryear, of the boogeymen that your nan told would creep into your room at the dead of night. I will reimburse you for every story shared. Do me this kindness, before I leave seeking more."
Howdy Doo buckeroos!
This is a small post that is basically asking for folks to share stories and fables that their character might know. For each fable or legend, 5k will be reimbursed, with a maximum of 50k (or 10 stories) per player. If you are interested in helping out Red, making some easy quick cash, or just want to do some creative writing. Do post your responses below. If any players wish to get in contact with said figure, just PM and we can see about sitting down. Anyhoo, that is all, Toodles!
​