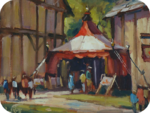 "
Come one
-
come all
!
For the small price of five
-
thousand arunes
,
enter the Tent of the Otherworlds to see wonders of the abnormal
!"
Within the streets of Everhollow would a tent be propped up- it revealing a flashy red and white color scheme to garner as much attention as possible. On signs by the entrance would be written the following;
"
Glimpse into the realm of Chaos with the Strange Seven!
"
and "Have your true self discovered!". The shouting of advertisement emerged from a rather lowly man, somewhat torn rags over his person, clearly doing what he can for some coin. Bursts of heat and unanimous cheers could already be felt by the entrance of the tent, as well as subtle shuffling of portions of tent all over, as if being moved from the inside. If any were to try and look in, they would see nought but a violet curtain, blocking any unpaid eyes from sight.

​
Hello! This is a forum event, and will likely be going on for some time due to the nature of it being on the forums. All characters are welcome unless said character is obviously hostile or evil. Just reply to this like any other forum event and you're in!
This is considered my trial event, and has been confirmed by
@monomyth
.