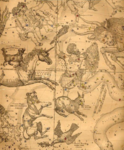 As Eleanora was a retired soldier who had seen many wars and conflict, she set out to form an organization from her position as Queen after speaking with her husband. Yes, she had taken up smithing in order to produce weaponry and help the common fighter, but she felt the need to do more. She sat down at the desk in her and Avel's quarters one day and began brainstorming. She wished to explore the world as she did in her youth and to find out more about this new one they had been thrust into, and if the need arises, defend or protect what needed to be. Partly inspired by her old mentor, Zachariah Eleison. Thus the idea of the Queen's Quests was born.
The Queen's Quest is a private expedition group founded by the Reikland Queen Eleanora Maddoc. The group was made private in order for the women to vet those who wish to join. The goal of the group is to learn more about the world and the mysteries it may hold and even protect knowledge, relics, or holy sites. Then to write, or otherwise record these instances. The goal of the group is not to seize or obtain loot/objects for personal gain.
---------


Wanted to do something to keep rp going in the Reik and that would make sense for my character. If you are interested you can throw me a message on discord or respond here with an IC post or any OOC questions!
​