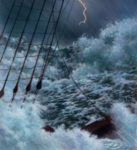 ​
​
[
!
] *Throughout the billboards of Highmeadow, posters would be nailed to the wet and blood soaked wood. The papers had been treated so they couldn't suffer from the weather, and helped being placed there by the Chancellor Krianna herself, and her men. The calligraphy was foreign, but elaborate, with intricate and picturesque drawings at each corner depicting sea monsters. The sides were lined in some form of glyphs completely foreign to many - dwarves included -. The text itself had been written in black ink with some teal highlights.* [
!
]
​
LOOKING TO HIRE THREE (3) MEN, OR WOMEN, READY TO TAKE ON THE ARCTIC SEAS

Must speak Heilig, Elvish, & Avaltan.
Must have experience handling themselves on a ship.
Must be willing to brave stormy seas and dangerous weather.

Specific Roles Required:
Translator, Cartographer, Medical Staff, Chronicler.

Pay is: 70,000A
Duration:
3 OOC DAYS - 1 OOC WEEK
;

If interested, come to the Highmeadow Tavern and address one named Arthwr An Brannissil for an interview.
We leave on the [
21rst of August 2019
].


​
Character Age (
Won't Accept Underneath 16 or Racial Equivalent
)
:
​
Years of Naval Service/Experience
:
​
​